What You'll Learn and Receive
What You'll Receive With Your Purchase
Learn to confidently setup, program, and troubleshoot PLCs with PLC Basics Standard Second Edition
You don't need to spend thousands of dollars to learn how to use, program, and troubleshoot PLCs. 
All you need is basic electrical knowledge, a Windows PC, and our affordable PLC Basics Second Edition Online Course.
PLC Basics is the perfect online course for electricians, technicians, and engineers who want to learn to setup, troubleshoot, and program PLCs. Taught by a factory certified PLC specialist with over thirty years of experience, in this course you will learn everything you need to know to get started using PLCs with confidence.
Unlike other vendor's courses that become available only after you purchase their expensive hardware or trainers, our PLC courses doesn't require you to purchase any additional parts as we show you how to download and use the free editions of the Allen-Bradley PLC Programming and Emulation software used in this course.
And for those who'd prefer to learn with a physical PLC, we also cover which Programmable Controllers and Programming cables work best and why, as well as how to set them up and program them. We even provide you with a list of components and devices used to build the affordable, homemade PLC trainer we use in this course.
Unlike other companies whose job is done once the sale is complete, we're committed to your success and actively encourage students to post questions in the lesson discussion area. Our expert instructors visit The Automation School each weekday to support and answer student questions.
We also invite you to come back and retake any lesson as the need arises, which is made possible by the fact that none of our course come with an expiration date.
And when you finish your course and pass all the quizzes, you'll also be rewarded with an official Completion Certificate from from The Automation School that will list the Professional Development Hours you've earned by completing all of the course content.
Standard Edition Topics:
Below is a summary of the topics covered in this course, and a complete lesson listing is also available in a following section:
What a PLC is
Styles and Types of PLCs
Numbering Systems and Data Types
What Ladder Logic is and how it works
How to setup Serial and Ethernet Communications
Creating, Testing, and Troubleshooting MicroLogix Programs in RSLogix
How to integrate Push Buttons, Pilots Lights, Motors and Photo Eyes with PLC Logic
How to use PLCs in a Motor Control and Part Sensing applications
Who should take this course:
Anyone who has basic electrical knowledge and wants to learn how to setup, program, and troubleshoot PLCs.
Instructor Bio:
Shortly after earning a degree in Electronics, Shawn Tierney spent twenty five years working in the field as a Rockwell Automation authorized distributor specialist helping countless Engineers and Electricians learn how to select, setup, program, and troubleshoot Allen-Bradley industrial automation controls.
During his time as a specialist, Shawn attended over fifty weeks of Rockwell training and gained his certification as a Rockwell Automation Specialist and Information Software Specialist, and graduated from Rockwell's STPA Certification program with the highest recorded score.
During that time Shawn also earned his Microsoft Certifications in Server and Desktop Operating Systems, becoming a Microsoft Certified Professional.
Shawn left his job as an Automation Specialist in 2015 to focus on sharing everyting he's learned in affordable, self-paced courses at TheAutomationSchool.com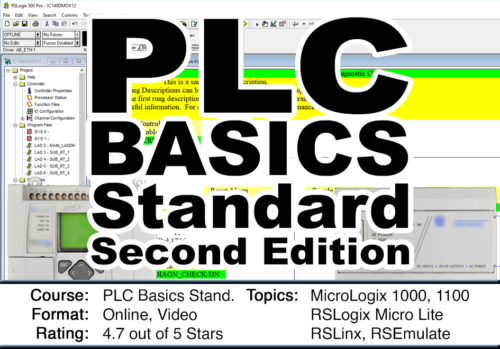 Student review: "Great Course! Clear and easy to follow instruction and examples by Shawn. I'm looking forward to taking the other courses. 5 star!!!" – R.M.
Student review: "This is excellent training for beginners. It is very detailed and full of valuable information. I would recommend this to any hobbyist / technician / engineer / scientist with no prior PLC knowledge or experience." – G.P.
Student review: "From having no knowledge of plc's and ladder logic, to creating simple programs, This course did exactly what it was supposed to do, introduction into plc's." – M.I.I
Student review: "This course was excellent at getting the inside concepts of a plc and what it does! Shawn had me running a plc program in a emulator within hours." – F.B.
Course Requirements and Questions
Requirements to follow along and/or complete any optional exercises:
Students who wish to complete any optional exercises, or just follow along with the instructor as he teaches, will need the following:
An internet connection to take this online course as well as to optionally

download the free PLC programming and emulation software from Rockwell's website
Students who wish to use a physical PLC (in place of the free PLC emulator) will need either a MicroLogix 1000 or 1100 for use with the free programming software, plus a programming cable compatible with their PLC and PC (all of this is covered in the course)

A Windows PC compatible with the above software (see below) and PLC

Optionally any Input (push buttons, switches, etc) or Output (pilot lights, relays, etc) devices the student would like to use with their MicroLogix 1000 or 1100 (a list of the devices we use

is provided

)
NOTE: While the course covers how to find I/O wiring diagrams, it does not include lessons on basic electricity or basic wiring skills
Note: Currently, Rockwell states their free RSLogix PLC and Emulation software supports these Windows versions:
Windows XP Pro SP3 32-bit
Windows Vista, Home or Business
Windows 7, Home or Pro
Windows 8, Home or Pro
Windows 10 (Unofficial, instructor tested)
Take this Course