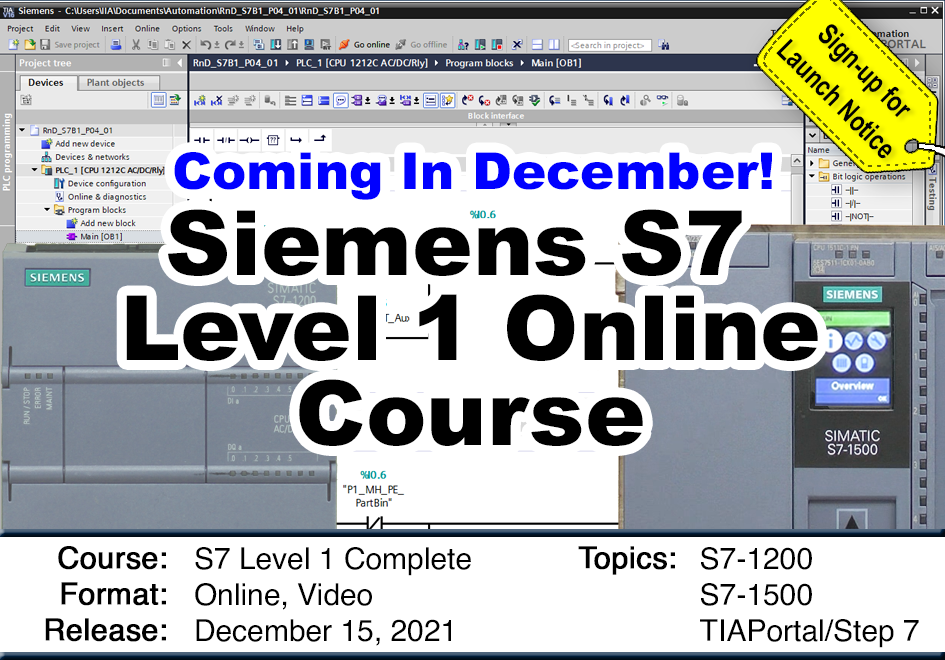 ---
New
Siemens S7 Course

coming in December:

S7 Level 1 Complete

 

– sign-up below to receive launch sale coupon!
---



New S7 Level 1 Complete™ course featuring the S7-1200, S7-1500, and TIA Portal / Step 7, launching on December 15th!
Sign-up below to receive a launch notice when the courses is released, as well as a limited time "Launch Coupon" to save 50% off the course when it goes live!
Designed for beginners as well as experienced users of other programmable controllers, our new S7 Level 1 Complete online course releasing this December 15th is designed from the ground up to get you up to speed on the world's most popular line of programmable controllers.
Whether you've used Allen-Bradley, Mitsubishi, Wago, Phoenix Contact, IFM, Automation Direct, or another PLC, our S7 course will help you make the transition to TIA Portal and Step 7 by first introducing you to the hardware and software, and then walking you through creating, testing, and troubleshooting dozens of practical  code examples used in real world applications.
To get notified of the courses release, as well as recieve a special limited time "Launch Coupon," just fill in and submit the below form, which you can also use to ask questions about the course, or submit subjects and topics you'd like to see covered in it:
---
S7 Level 1 Course Notification – Sign-up to get notified when the course launches PLUS get a launch sale coupon:
---
Thanks as always,
Shawn Tierney,
Founder of The Automation School