What You'll Learn and Receive
What You'll Receive With Your Purchase
Learn to confidently configure, create, edit, and deploy applications using Rockwell Software's FactoryTalk View Site Edition in ViewSE Basics
You don't need to spend thousands of dollars and several days in a classroom to learn how to configure, create, edit, and deploy Factory Talk View Site Edition applications
.
All you need is a Windows PC and our affordable ViewSE Basics Online Course.
ViewSE Basics is the perfect online course for those who want to learn to setup, create, edit, deploy, and troubleshoot FactoryTalk View Site Edition. Taught by a factory certified View expert with over thirty years of experience, in this course you will learn everything you need to know to get a Factory View Site Edition Station application created and deployed with confidence.
Unlike expensive factory training which either requires you to spend a week in a classroom, or provides time limited access to online lessons, our HMI and SCADA courses come with no expiration date and expert instructor support. And if you don't have a copy of ViewStudio Enterprise, we walk you through how to get a full thirty day trial license right from Rockwell – a trial license that after thirty days converts into a demo which you can continue to use for up to two hours at a time.
And for the PLC connections, the instructor provides his PLC Sample Code in MicroLogix, SLC-500/Emulate500, PLC-5, CompactLogix, and ControlLogix formats. He also shows you how to connect to each of these controllers so no matter which one you decide to use (including the free Emuate500) you'll know exactly how to set it up.
Unlike other companies whose job is done once the sale is complete, we're committed to your success and actively encourage our students to post questions in our lesson discussion area, where our expert instructors monitor during the week to answer student questions.
We also invite you to come back and retake any lesson as the need arises, which is made possible by the fact that none of our course come with an expiration date.
And when you finish your course and pass all the quizzes, you'll also be rewarded with an official Completion Certificate from from The Automation School that will list the Professional Development Hours you've earned by completing all of the course content.
Course Topics:
Below is a summary of the topics covered in this course, and a complete lesson listing is also available in a following section:
What FactoryTalk ViewSE is, and how to find its documentation and downloads

Understanding how ViewSE works, including a look at four sample applications

Creating your first ViewSE Standalone Application

Graphic Displays and settings, Object Properties, and In-place Editing

Testing Displays, Creating Client Files, and Editing running applications

Using Drawing objects, Library Objects, and the Symbol Factory

HMI System Tags, Numeric Displays, Color and Fill Animations

Creating, editing, and duplicating Tags

Importing Displays, Using Numeric Inputs and Slider Animation

Tag Substitution, Tag Placeholders and Parameters, and On Top Displays

Expressions, Derived Tags, and Events

Setting up RSLinx Enterprise and RSLinx Classic Communications

Direct References and HMI Device Tags

Offline Tag Browsing and HMI Tag Importing

Creating and using Parameter Files and Tag Placeholders

Command Line, and creating and using Macros

Creating and Using Global Objects

Datalogging and Trending

HMI Tag Alarms and Alarm and Event Alarming

User, Group, and Application Security

Backing up your Application

Setting up an Operator Workstation

Restoring and Running and Application

Setting and Using FactoryTalk ViewPoint
Who should take this course:
Anyone who would like to learn how to create, edit, and deploy ViewSE projects. Note: prospective students should already have some PLC knowledge, and be comfortable using Windows 10.
Instructor Bio:
Shortly after earning a degree in Electronics, Shawn Tierney spent twenty five years working in the field as a Rockwell Automation authorized distributor specialist helping countless Engineers and Electricians learn how to select, setup, program, and troubleshoot Allen-Bradley industrial automation controls.
During his time as a specialist, Shawn attended over fifty weeks of Rockwell training and gained his certification as a Rockwell Automation Specialist and Information Software Specialist, and graduated from Rockwell's STPA Certification program with the highest recorded score.
During that time Shawn also earned his Microsoft Certifications in Server and Desktop Operating Systems, becoming a Microsoft Certified Professional.
Shawn left his job as an Automation Specialist in 2015 to focus on sharing everyting he's learned in affordable, self-paced courses at TheAutomationSchool.com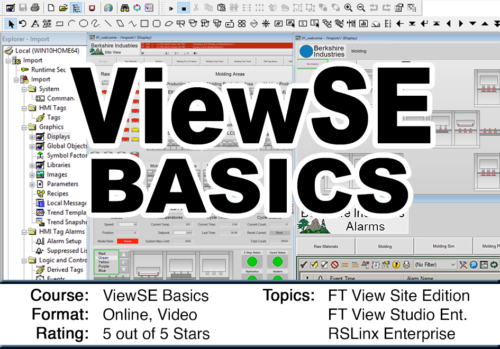 Student review: "This is an exceptional course! I really learn a lot, and I'm able to create projects efficiently now (I just finished a bottling plant project) You are a great instructor, thanks!" – CB
Student review: "The course is extremely detailed and very well put together. I both enjoyed and learned a lot from the course. Best investment I have made!" – JG
Student review: "Course completed, and I can highly recommend it! Thank you very much Shawn!" – CF
Student review: "Great Course!" – CH
Course Requirements and Questions
Requirements to follow along and/or complete any optional exercises:
Students who wish to complete any optional exercises, or just follow along with the instructor as he teaches, will need the following:
An internet connection to take this online course

A installed and working copy of FactoryTalk View Studio

Enterprise

(information on how to request a free 30 day evaluation and demo copy from Rockwell is covered in the course)
NOTE: This course is based on FactoryTalk View Studio

9.0

, and all of the instructor's example work is provided in version 9.0. That said, the files required to complete optional exercises are also provided in v8.0 and can be found in the appendix
Programmable Controller sample code for Students who wish to complete optional exercises is provided for the following controllers:
RSLogix Emulate 500 (Free)
PLC-5/20
SLC-5/05
MicroLogix 1000, 1100, 1400
CompactLogix L16 and L23 (v20, can be migrated to a newer controller/version)
ControlLogix L61 (v20, can be migrated to a newer controller/version)
Note: The version of FactoryTalk View Studio used in this course is
9.0

, and according to Rockwell it supports these Windows versions:
Windows 7 Pro
Windows 8 Pro
Windows 10 Pro
*Students with Windows XP 32bit SP3 may use View Studio v8.0, and required files complete optional exercises are provided in version 8.0 in the appendix.
Take this Course