Overview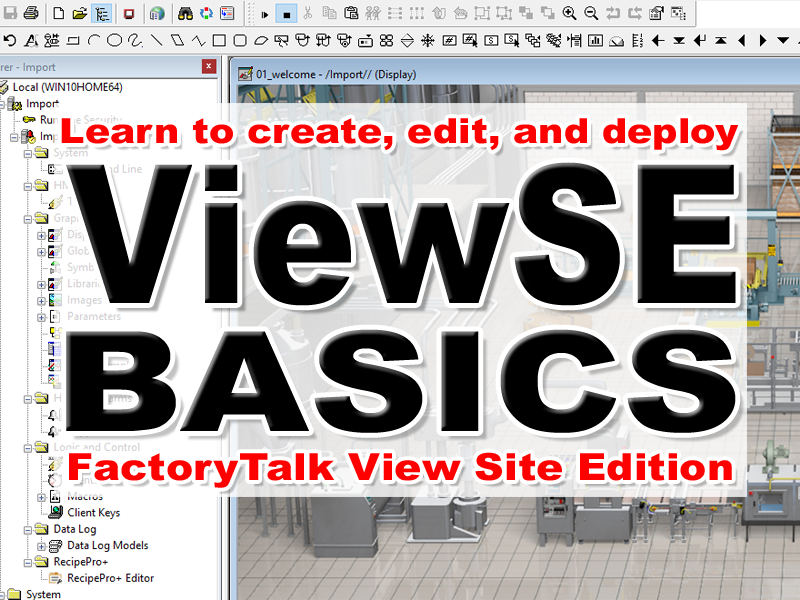 In this course you'll learn how to create, edit, and deploy FactoryTalk View Site Edition Local Station applications using FactoryTalk View Studio Enterprise.
---
Online Course Advantage:
All our online courses come with
No Expiration Date
and include
Instructor Lead "Q & A" Support
in the lesson discussion area.
Online Course Completion Certificates
are also available to students who complete all of the course's lessons and quizzes.
---
---
Details
In this course students will learn how to create, edit, and deploy FactoryTalk View Site Edition Local Station applications using FactoryTalk View Studio Enterprise.
---
What you will learn:
What FactoryTalk ViewSE is, and how to find its documentation and downloads

Understanding how ViewSE works, including a look at four sample applications

Creating your first ViewSE Standalone Application

Graphic Displays and settings, Object Properties, and In-place Editing

Testing Displays, Creating Client Files, and Editing running applications

Using Drawing objects, Library Objects, and the Symbol Factory

HMI System Tags, Numeric Displays, Color and Fill Animations

Creating, editing, and duplicating Tags

Importing Displays, Using Numeric Inputs and Slider Animation

Tag Substitution, Tag Placeholders and Parameters, and On Top Displays

Expressions, Derived Tags, and Events

Setting up RSLinx Enterprise and RSLinx Classic Communications

Direct References and HMI Device Tags

Offline Tag Browsing and HMI Tag Importing

Creating and using Parameter Files and Tag Placeholders

Command Line, and creating and using Macros

Creating and Using Global Objects

Datalogging and Trending

HMI Tag Alarms and Alarm and Event Alarming

User, Group, and Application Security

Backing up your Application

Setting up an Operator Workstation

Restoring and Running and Application

Setting and Using FactoryTalk ViewPoint
NOTE: All of the course files provided will work with View Studio 8 and greater. That said, since this course is based on View Studio v9, the only application archive (APA) compatible with v8 is the final completed application.
---
Who should take this course:
Anyone who would like to learn how to create, edit, and deploy ViewSE projects.
Note: prospective students should already have some PLC knowledge, and be comfortable using Windows 10.
---
Requirements to complete optional exercises or follow along:
Students who wish to complete optional exercises, or follow along with the instructor as he programs, will need the following:
1) A working copy of FactoryTalk View Studio Enterprise Edition, and a compatible Windows PC to install and run it on.
Note: Information on how to request a free 30 day evaluation and demo copy of View Studio Enterprise from Rockwell is covered
Note: This course is based on FactoryTalk View Studio 9.0, and according to Rockwell ViewSE 9.0 supports these Windows versions:
Windows 7 Pro
Windows 8 Pro
Windows 10 Pro
Note: ViewSE v8.0 is said to support Windows XP Pro SP3 32bit, and all of the provided files required to complete the course are compatible with ViewSE v8.
---
2) An Allen-Bradley Programmable Controller, or Free PLC Emulator compatible with the above Windows PC and View Studio Enterprise.
Note: How to download and use Rockwell's free RSLogix Emulate 500 is included with this course as a bonus lesson
Note: The instructor provides sample programs for the following Programmable Controllers for use with the course lessons:
RSLogix Emulate 500
PLC-5/20
SLC-5/05
MicroLogix 1000, 1100, 1400
CompactLogix L16 and L23 (v20)
ControlLogix L61 (v20)
---
Sample Lesson
In this presentation you'll learn about the different products that make up the ViewSE family, as well as how to find documentation, downloads, updates, and system requirements.
---
Images
Pricing
Questions
---
---
Course Materials
Requirements for Online Lessons:
To take an online course at
TheAutomationSchool.com
, you'll need a compatible web browser like Chrome, FireFox, Internet Explorer, etc. To insure your browser is compatible, please test it by taking our free course
here
.
Requirements for Software, Hardware, and Hands-On:
For detailed requirements to complete any optional programming exercises, or to follow along with the instructor as he programs, see the "Requirements..." section near the bottom of the
Details
tab.